In the attention economy, we're focused on our people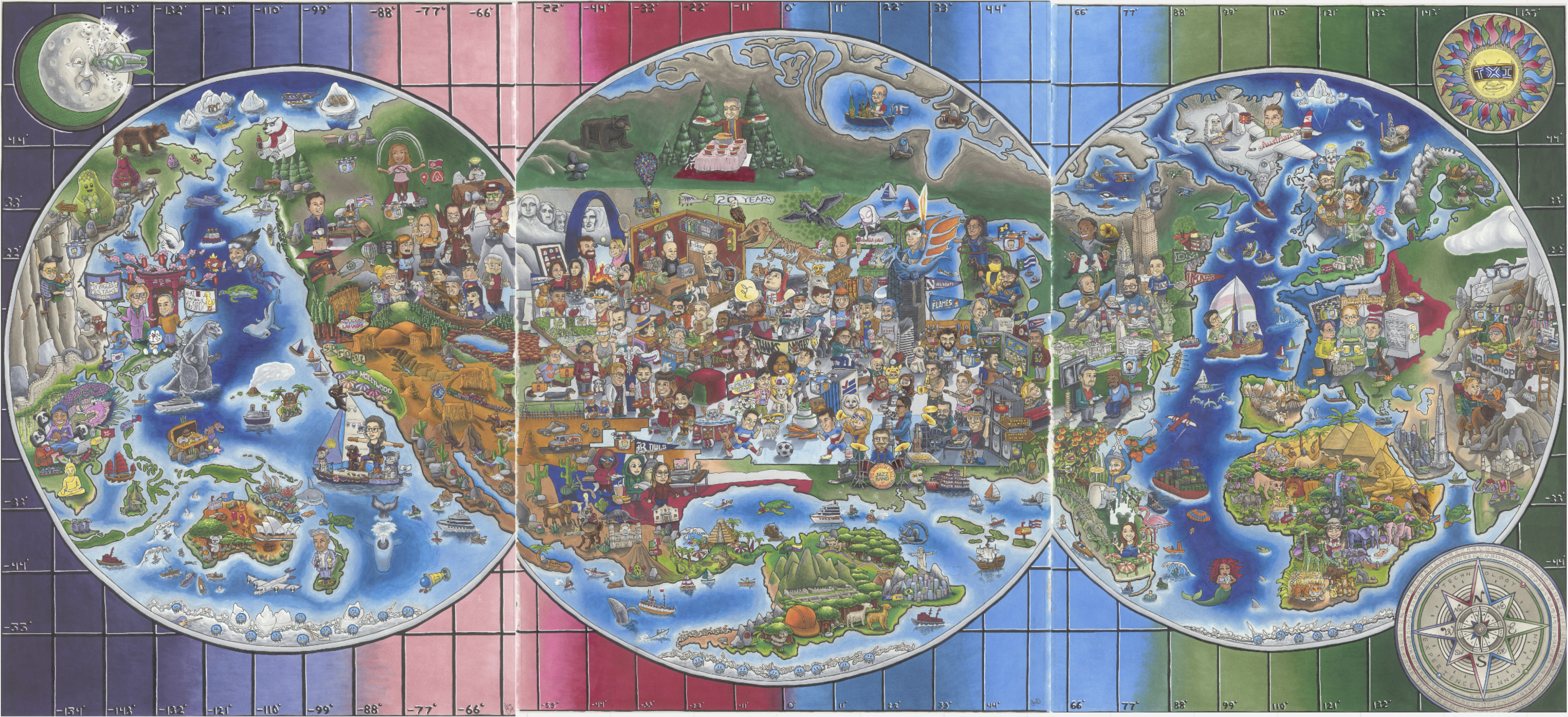 The Great Resignation has forced many employers to grapple, many for the first time, with what their employees want.
Many are struggling to reconcile business norms that have existed since the Great Recession with an employee base newly empowered by the ongoing labor shortage. Instead of dictating the terms of employment agreements, employers are being forced to consider employees' preferences or risk losing their most valuable asset to competitors.
At TXI, though, we aren't experiencing this moment as disruptive, largely because we've been operating with a people-first approach for years now. Maybe the most visible manifestation of that approach is the artwork we commissioned to celebrate our 20th anniversary as a company (see Figure 1). Here's a look at the story behind it.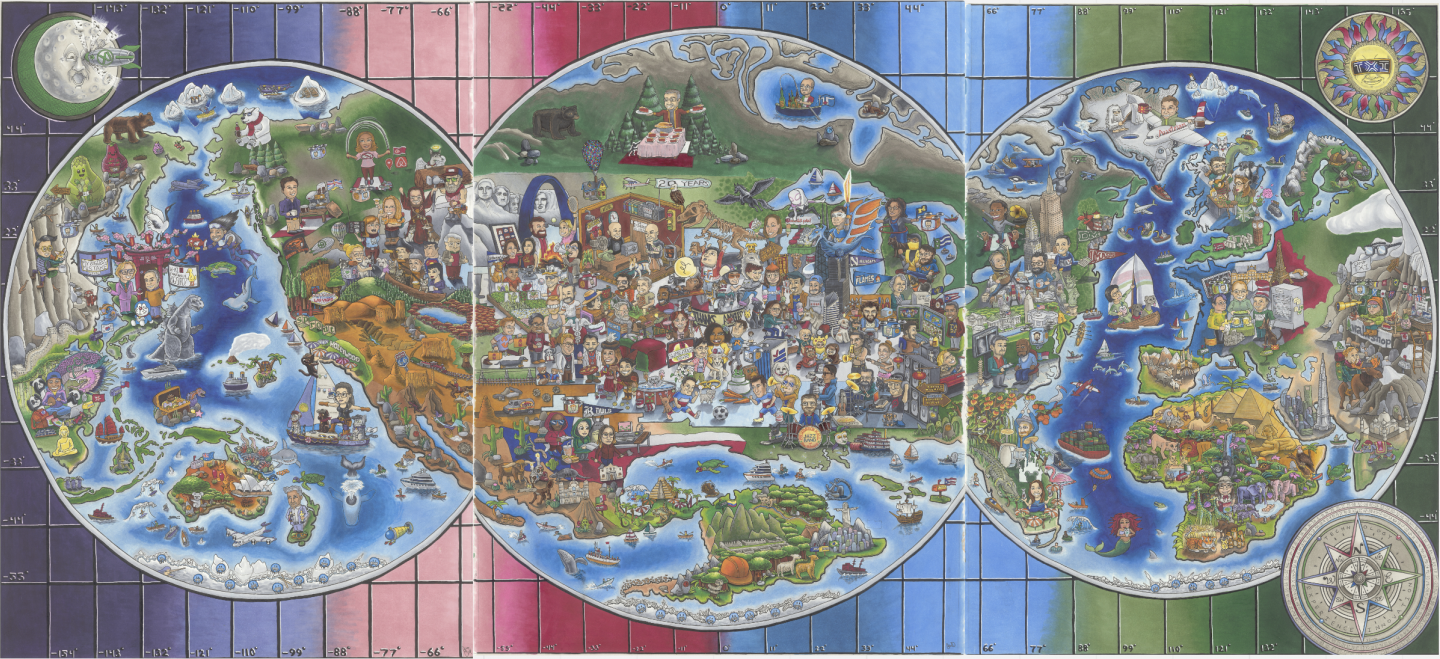 What's in the painting?
If you're reading this on a small screen, it may be hard to grasp the nature of this painting. We recommend viewing it on a larger screen or zooming in on these three panels at the end if possible.

The full-size version is three movie poster–size panels, each with a portion of a flattened-globe map bursting with life: depictions of people, landmarks, animals, and activities - all representing elements of our company as we hit our 20th anniversary. Most of the action is in North America, where most of the TXI team is located––but there's also plenty of action in the UK, Europe, Africa, Asia, Australia, and the oceans.
Taken as a whole, the painting comes across as whimsical, cheerful, and teeming with representations from our company culture and history. But the closer you look––the more attention you pay––the more meaning you'll find. For example, there are many nods to the number 11, in recognition of our company's earliest name (Table 11) at the time of our founding 20 years ago: collections of 11 things (drones, puppies, benchmarks––all of which are significant to someone at TXI) and latitude and longitude lines that increase in increments of 11 degrees (see Figure 2).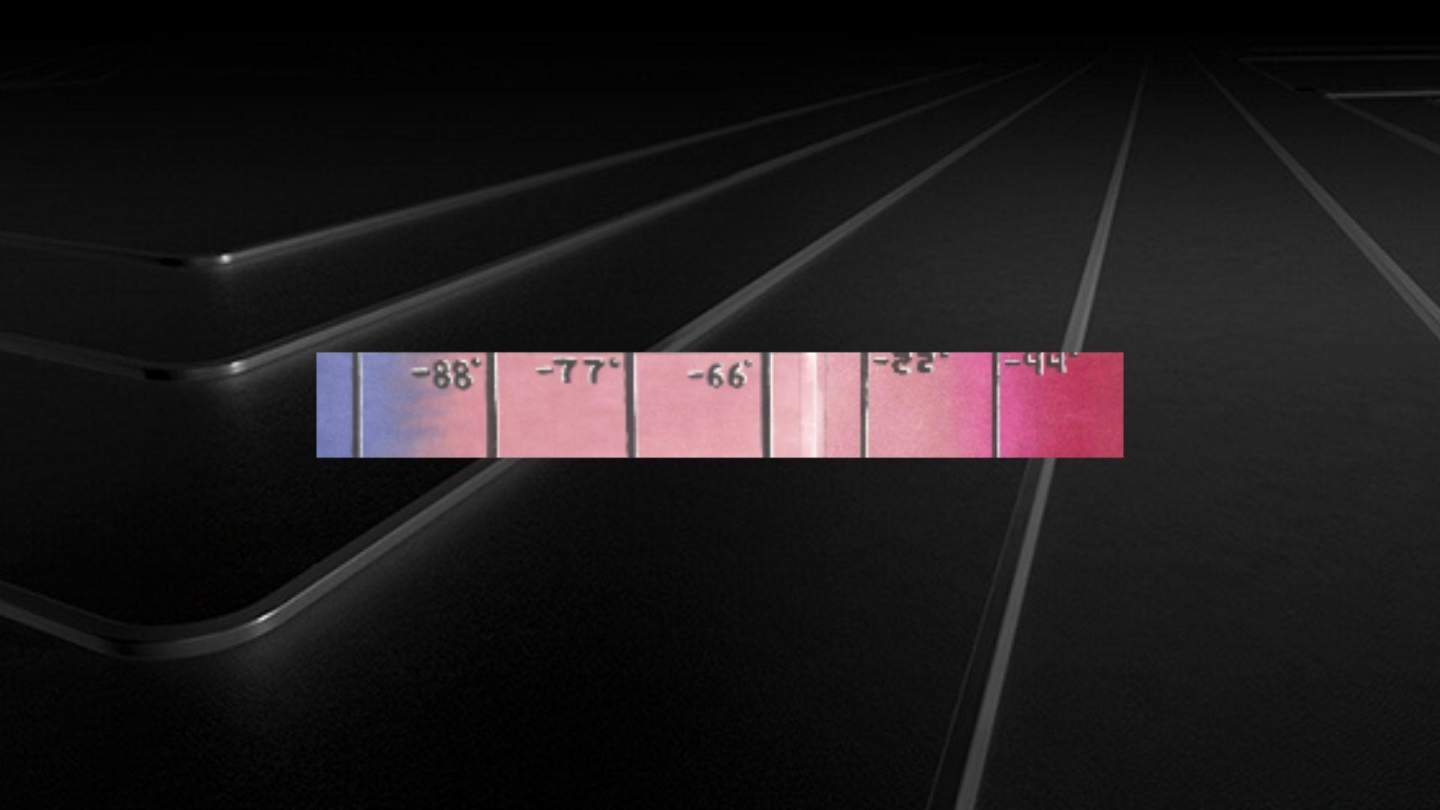 The compass rose has employees' and clients' initials around its circumference, along with coordinates for where to find their avatar in the painting (see Figure 3).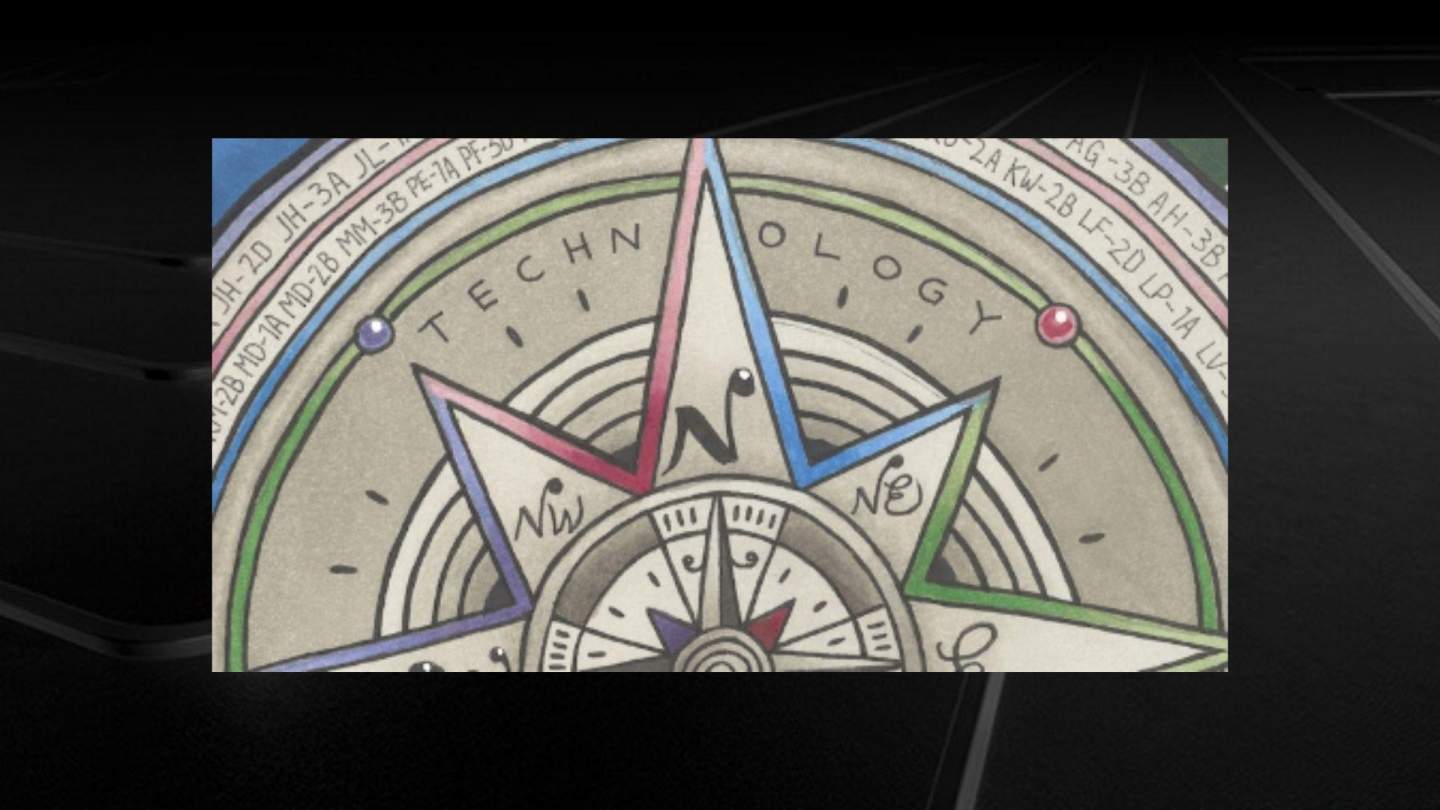 If you take a look at the people depicted, you'll find images of TXI employees and clients doing things they love: there's Ed LaFoy, who built a drone to water his houseplants, building a drone just south of Lake Michigan. There's Vlad, who's from North Macedonia, flying Austrian Air (his favorite airline) over Greenland with a cup of coffee (which he loves). And down in Florida, there's Liz Vellojin (see Figure 4), sitting in a lotus pose and holding two F bombs (she's a yogi who swears a lot).

In fact, every TXI employee who was with the company at the time we celebrated our 20th anniversary is represented in the artwork. At least three new people have joined since the artist started work. He managed to work them in so that on their first day, they saw that they, too, were a part of our journey and part of our story.
It really is a sight to see. I'm serious about zooming into the Miro board to see the details. Because this painting, and our culture, mean a lot to us as a company.
Why we commissioned art to celebrate 20 years as a company
Nine years ago, we commissioned a similar piece from the same artist to celebrate 11 years as a company. Back then, we had a shared office. We displayed the painting there and referred to it often, as part of our storytelling about who we are and what we do.
So why did we commission another piece of art now, when we've just finalized our transition to being a fully distributed company?
In our client work, we focus on creating new value. The practice of innovation is one of ongoing value creation. We live that in every facet of our business, including our relationships to our team and clients. In other words: we consider our relationships with each other and our clients to be places where we can and should be continually adding new value.
The painting manifests that approach. We didn't, for example, send out a spreadsheet two weeks before the artist started working and ask everyone to fill out a row with what they'd like their avatar to be doing in the painting.
In fact, we didn't consult with people at all––a risky move, to be sure. But it worked. And it worked because the recommendations we passed along to the artist came from deliberate, relationship-building onboarding practices and years of interactions with each other. Understanding what makes someone tick takes time; it requires that we get to know them beyond their deliverables on any given project.
When we shared an office, much of that getting-to-know-you happened in our communal kitchen, where we shared chef-prepared meals every day. Since we started transitioning to a hybrid and now fully distributed work model, we've had to find new ways of deepening our relationships with each other.
Commissioning this painting was, in part, a commitment to doing that work on an ongoing basis: to meaningfully represent everyone who works at TXI, we have to really know them––their hobbies, their pets, where they live, where their families are from, etc. Notice the game of Dungeons & Dragons happening right in the middle of the United States: Santiago, Gilad, Rolf, Arvin, and John are in character, playing (as they do at lunch some days).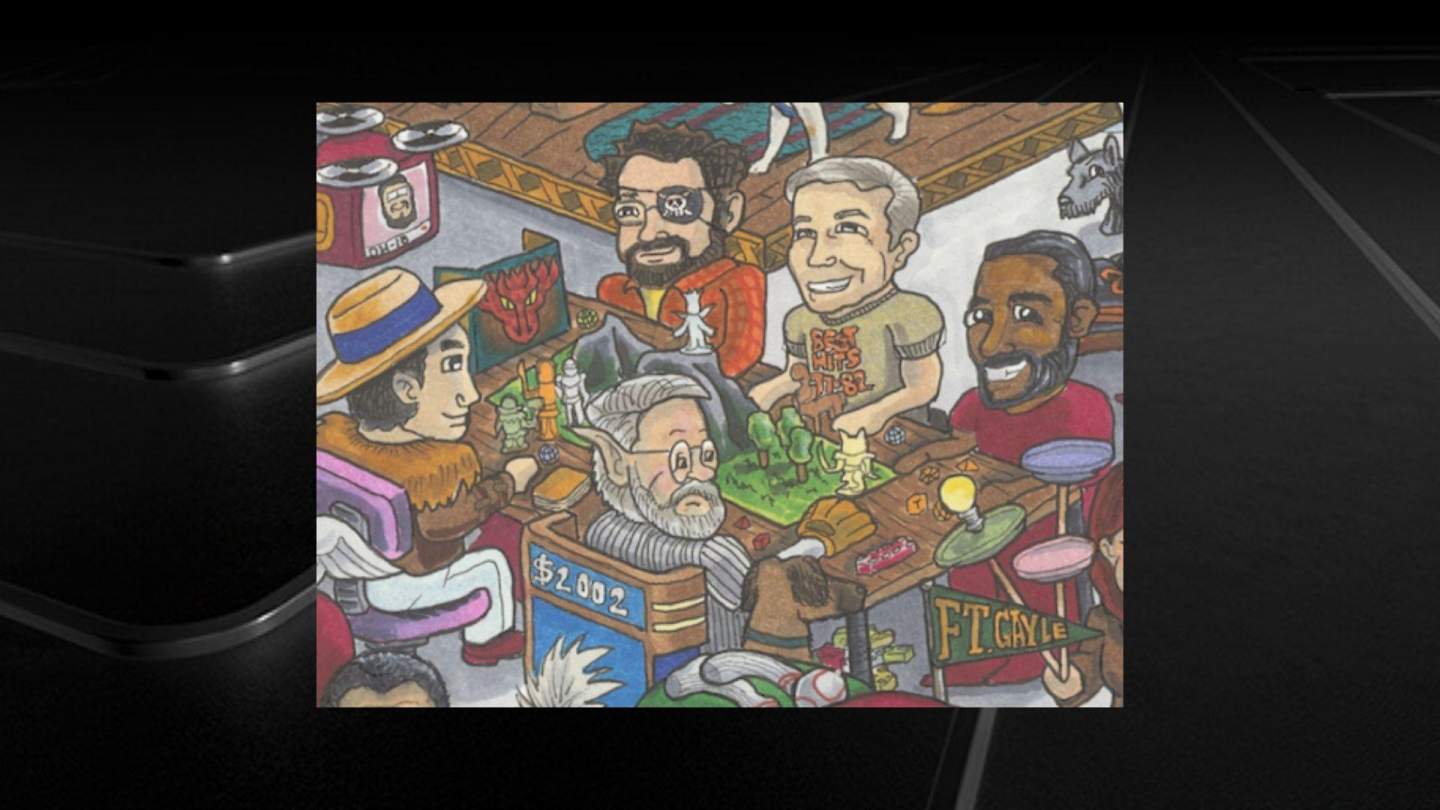 To create a painting like this, we have to really see the people in it. That requires serious intentionality in relationship building.
You could say we're highly invested in the people who work here––and not just in the figurative sense. In fact, TXI is currently going through the process of becoming an employee-owned company via ESOP. That's represented in the painting, too: up in Canada, you can see Josh Golden, one of TXI's founders, giving out slices of pie (see Figure 6). Because pretty soon, everybody at TXI will get a slice of the pie as we explore this path to diversify our ownership.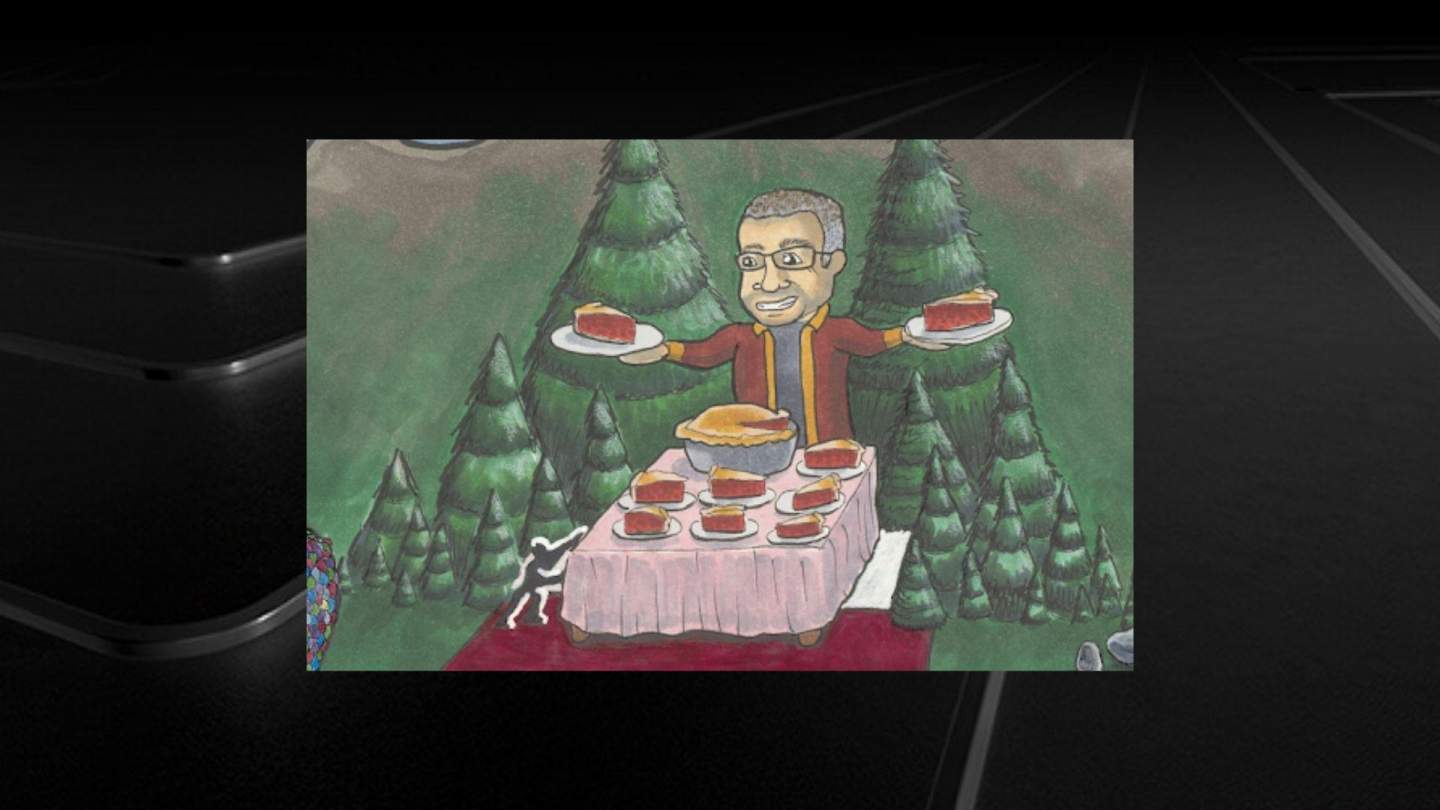 We're also highly intentional about relationships with our clients, many of whom are also represented in the painting. We value long-term relationships at TXI. Many of our clients are long-term partners who have helped shape the trajectory of the company.
Take PechaKucha, for example, a client of ours based in Japan. Cofounder Mark Dytham is shown in the painting (in Japan, of course) viewing a PechaKucha on Big Bird (one of his favorite global presentations of the day). Near him is client Peter Exley (founder of Architecture Is Fun and the host of TXI's Biggest Mistake Night) delivering a PechaKucha on his biggest mistake (see Figure 7). The avatar of TXI principal product designer Rex Chekal also hints at our PechaKucha relationship: in the painting, Rex is wearing the sunglasses he wore in a photo he took while attending the Olympics in Japan––where he made time to see the PechaKucha team.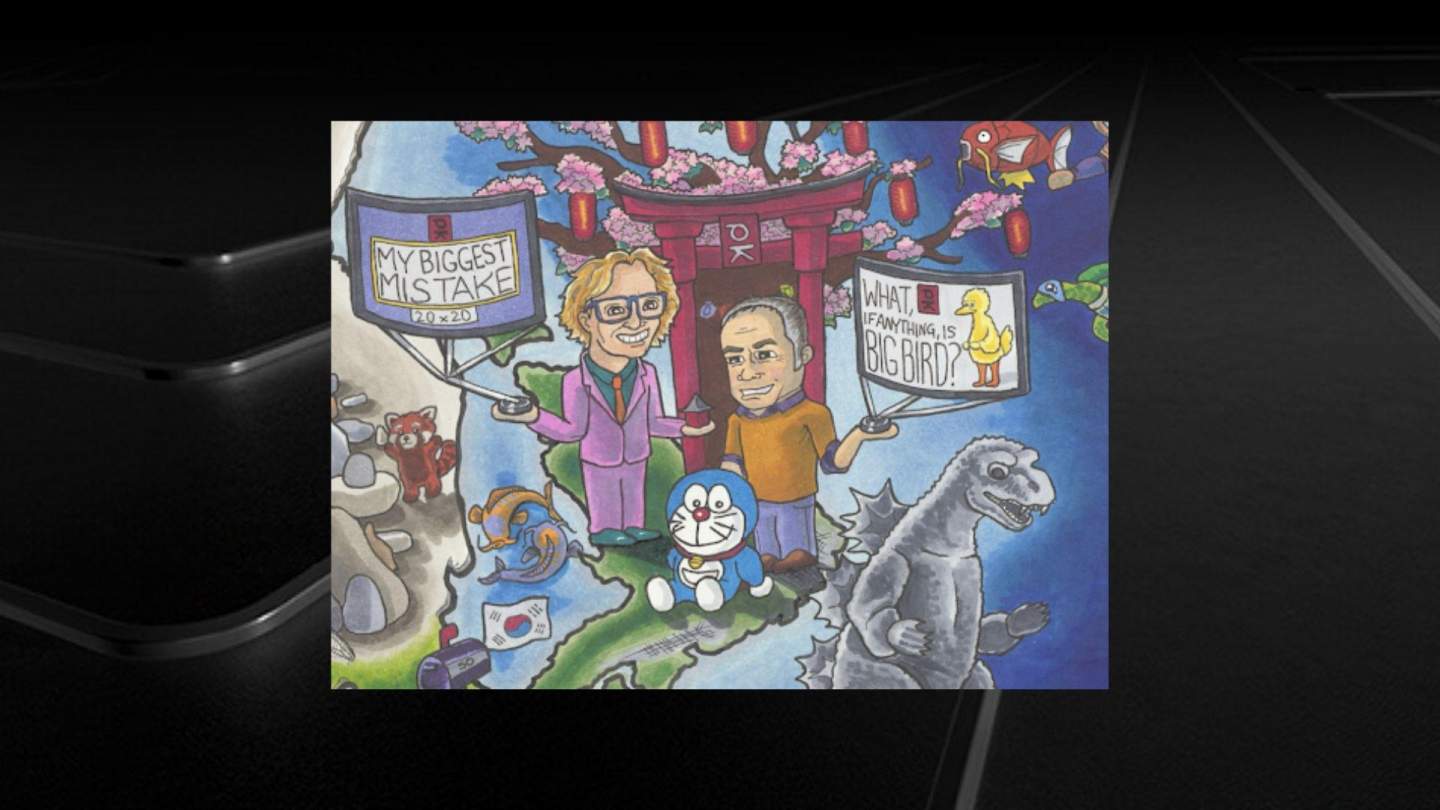 You may also notice pennants throughout the painting, for Northwestern University, University of Massachusetts, Oregon State, and others. These represent schools that use the Core equipment rental system we have built to empower research universities to optimize use of their research facilities.
We're looking forward to the next 20 years of collaboration with our clients and wanted them to be part of this moment of celebration.
What it means to really see each other
Much of the work that we do at TXI involves engaging in contemplative reflection. That's maybe most visible in our DEIB work: as we look for ways to create a more diverse, equitable, and inclusive workplace where people feel like they belong, we have to reflect on what barriers exist to diversity, equity, inclusion, and belonging.
It's also true in our client work: product innovation demands that we take in information from various sources and reflect on its meaning and implications.
And you can't reflect without first seeing.
This can be difficult for organizations. It can be painful. Committing to seeing your coworkers means you may see things they are unhappy about. It may mean seeing ways you have hurt them, intentionally or otherwise. It may mean seeing things they're dissatisfied with and that you as an organization should change. But the reality is that those things exist; refusing to see them does not make them go away.
For example, some people prefer to be off camera and do not like having their picture taken. In the painting, these folks are represented by the hobbies they enjoy or characters and superheroes who share their name (rather than the artist's depiction of the people themselves).
Attention is always an investment
There's a reason we talk about attention as something we pay. Our attention is incredibly valuable. Invested with intentionality, into people we care about, it yields significant dividends. But attention is also easy to fritter away. There will always be urgent deadlines, client emergencies, new posts on your social feeds.
What we've found is that investing our attention in each other––in the people who make TXI what it is––yields immeasurable rewards, both financial and otherwise.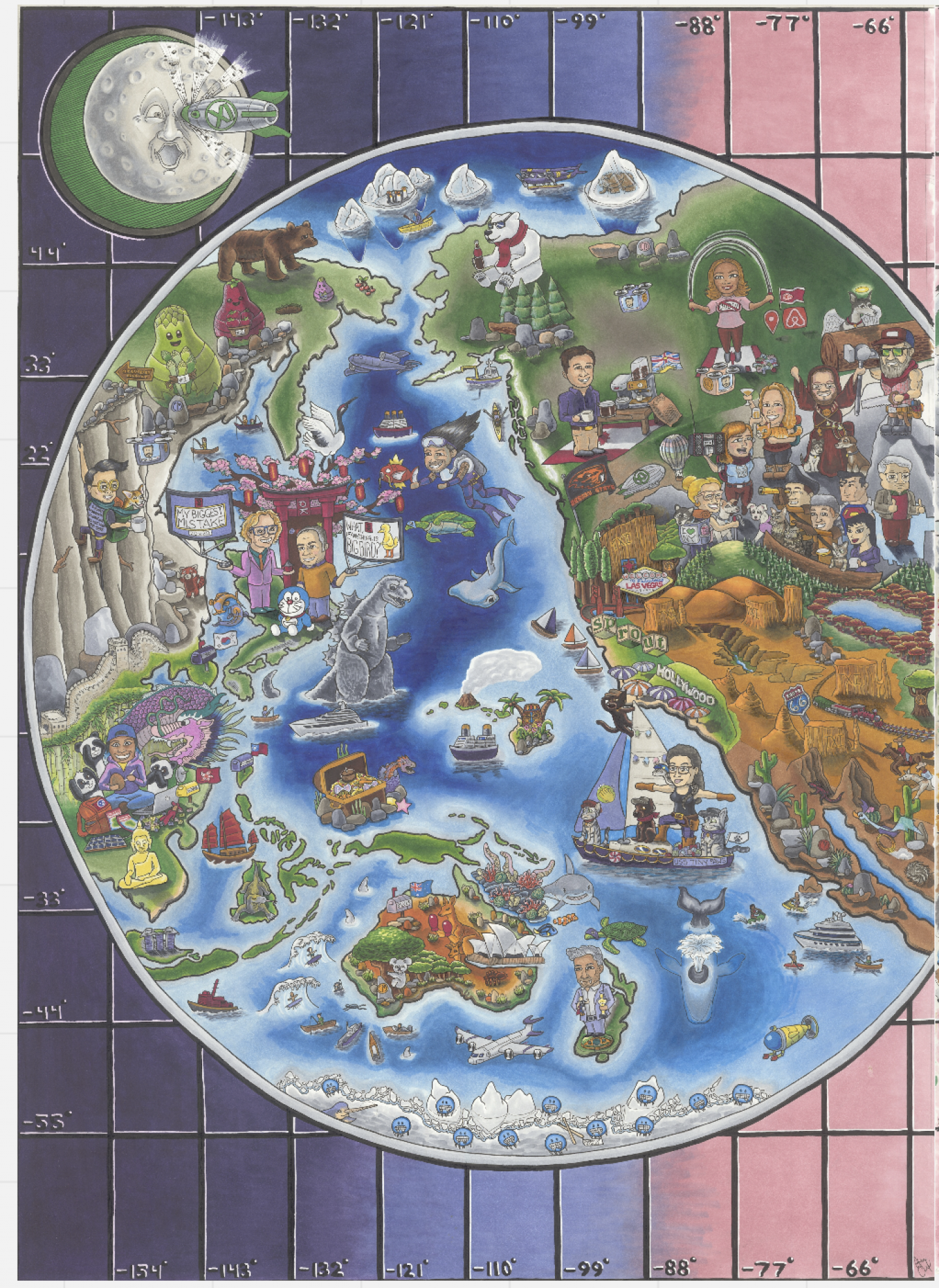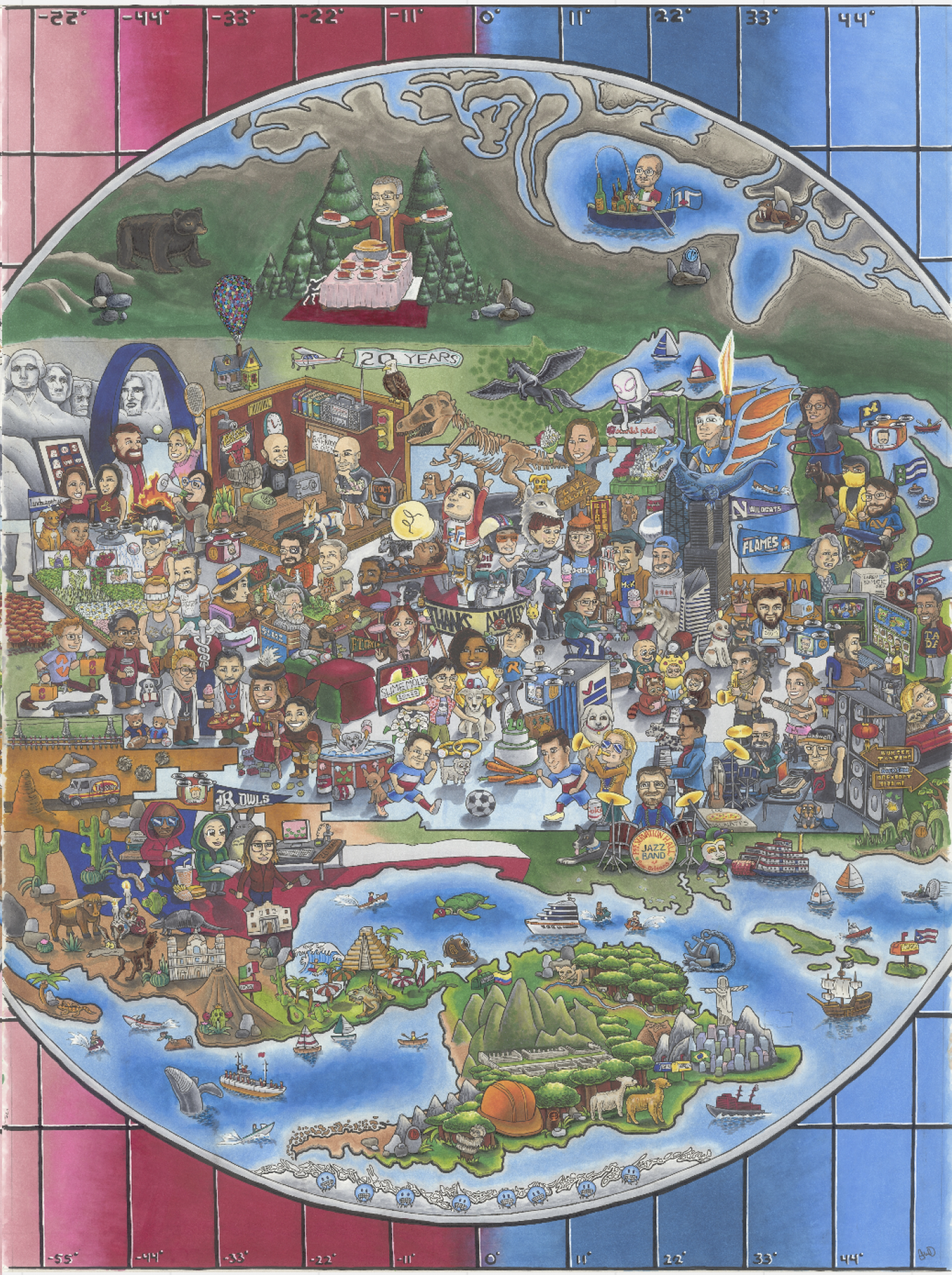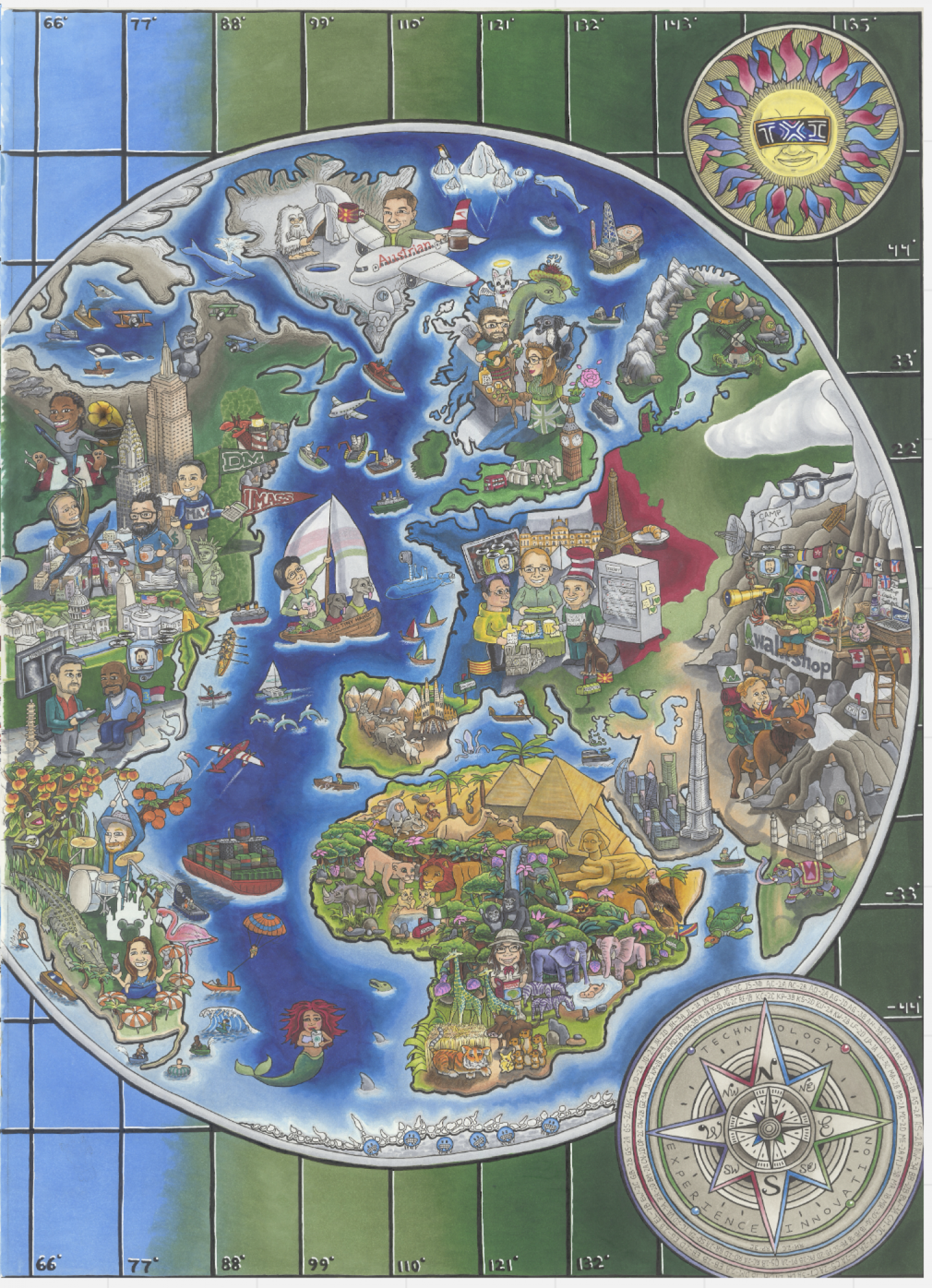 Published by Mark Rickmeier , Mark Estabrook in Culture