Building NUcore, Northwestern University's core facility management tool
The brief
"The most important part of our strategy was not to force people to use NUcore. We had to build good software that met people's needs."
Jeff Weiss, Director for Research Analysis at Northwestern University
Core facility management at Northwestern had the kind of complexity only custom software could solve. Sixty research facilities across two campuses were using a patchwork of systems to track usage and manage payments. To meet their varied needs, TXI developed NUcore to serve as a single, seamless and transparent core facility management software.
By creating a flexible tool, we've earned more than 90 percent adoption. Now administrators can get a clear picture of each core's utilization and staff can spend less time on accounting. Northwestern University's Office for Research, Robert H. Lurie Comprehensive Cancer Center and the Dean's Office at the Feinberg School of Medicine teamed up to find a solution to research facility management. The trio approached TXI with a big ask: Help us understand what's happening at all the core facilities across the university.
Each core at Northwestern is essentially an independent research facility. As science evolves, researchers build upon work that was once cutting edge. Genomics is a great example — in a relatively short period of time, science has gone from sequencing the human genome to understanding what those sequences mean. Some of the researchers who build their reputation sequencing the human genome now run cores, where they perform gene sequencing for researchers who take that data and move the science forward.
There are cores for all kinds of research and processes, and all of them have expensive equipment, trained researchers and single-use supplies that needed tracking. When TXI joined, core facilities management at Northwestern was happening across a patchwork of systems that took time away from researchers and gave administrators little visibility. NUcore's interface allows admins to quickly see what tools are being used.
The challenge
Managing the conflicting and overlapping needs of multiple constituents
The top-down argument from Northwestern administrators was: I need a way to get insight into this pool of money that I'm spending. The university spends millions to subsidize the tools these core facilities use. Northwestern wanted to know where its money was being spent and recovered — and it needed to make sure the cores were maintaining nonprofit status and supporting a broad array of researchers. Yet the only information they would get from the facilities were annual reports with no operational insight into how things were used on a daily basis.
In the trenches, the researchers who manage the core facilities were spending hours doing the work of an invoice accountant. Creating a system that made tracking and billing as lightweight and automated as possible gave researchers back a ton of time — time they could spend on the research they were trained to do.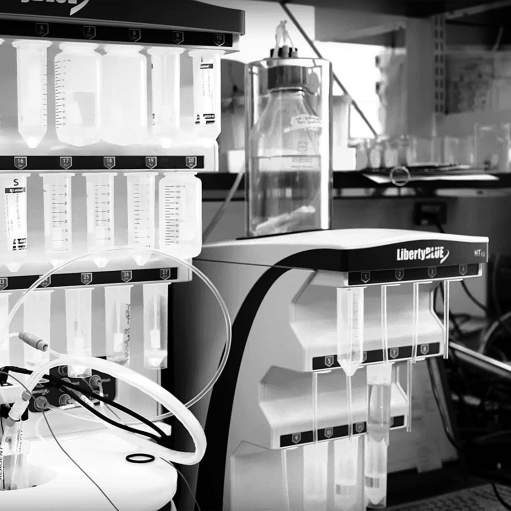 We wanted to quickly make facilities management easier, which meant launching a version of NUcore that served only the cores with the most straightforward needs.

NuCore needed new features to the product so it has all the functionality a core facility manager might need. Much of the work involved adding additional rules and workflows so that each core could better serve its users and meet their compliance requirements.

Respect for protocol. The chemistry labs required a significant adaptation due to their instrumentation requiring all matter to be guaranteed safe before each use.

New workflows were needed to enable NUcore to function as a lab information management system (LIM). This will reduce the workload of core facility managers and make NUcore compliant with the chemistry facilities' needs.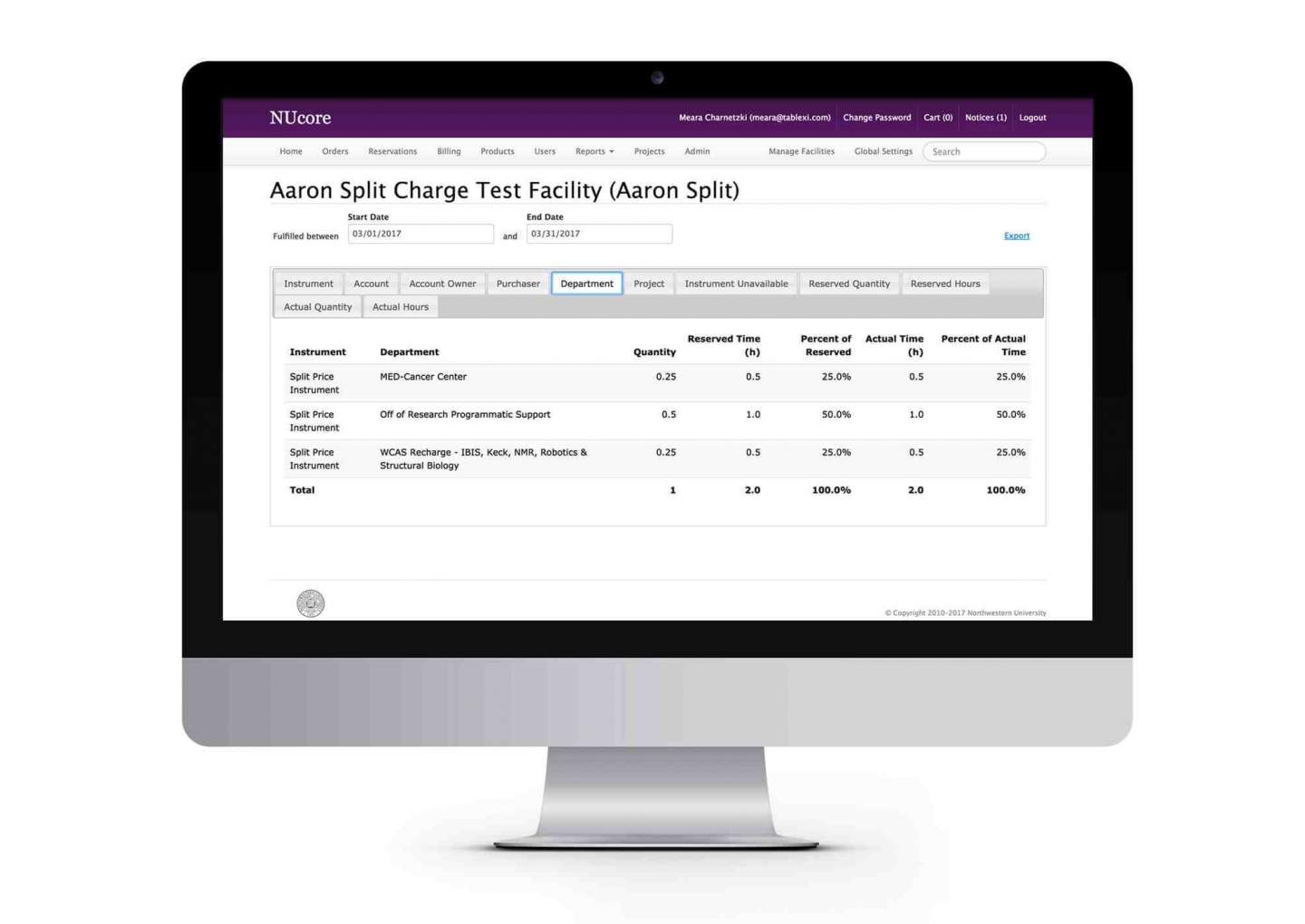 The solution
Added Internet of Things capabilities to remotely control access
Delivered security enhancements to Northwestern's core facilities
Created a reservation system to authorize and document approvals
Adding physical scanners that can read IDs and check permissions
Full visibility into its core facilities usage and data sources
Simplified the billing process tremendously for core facility managers
Automated confirmation flow from payment sources
Usage journals, saving time and making it easier to capture payment
The outcome
NUcore continues to grow and improve in part because of one unique feature: It's open-source. The Northwestern team realized they had an opportunity to be a good research partner to the community by making the facility management software open source for other universities and for-profit core facilities. By virtue of our relationship with Northwestern, we're the primary engineers and maintainers of NUcore.
55
Of Northwestern University's 60 cores use the NuCore system.
1
Unified central system, providing a single source of truth of complex summaries documenting everything that is happening in all core facilities.
24
A 24 hours a day, 7 days a week automated surveillance tracking and payment database.
The results
Maintaining the only open-source facility management software
TXI is the primary team and maintainers of NUcore. We've since rolled it out to Dartmouth College and the University of Illinois at Chicago. Core facilities are a pivotal part of a university's research infrastructure. We are proud to partner with the best in the country to advance their research endeavors.