 Our approach
We're product innovators. We take a pragmatic approach to making decisions, following a rigorous methodology, to achieve the outcomes you need.
Approach
Think pragmatically
As pragmatic innovators, we convert ideas to action, iterate on concepts, and make the value of digital experiences real. Product innovation is a people-first process. We start by understanding user needs and pain points, then we define and refine ideas in collaboration with users to arrive at the right solution. The outcome: We close the gap between your ambitions and your users' reality.
We focus on outcomes
We design digital products that are embraced and used to their fullest potential. As your partner, we will challenge your organization's orthodoxy and bring fresh, diverse perspectives to your initiatives ensuring you see results.
We're pragmatic and disciplined
We've built hundreds of products and know our approach works. We work differently from the outset by de-risking the process so we deliver outsized value with every effort.
Our approach is people-centric
We question and validate, probe deeply, and redefine the challenge you're facing to determine what will help your users most, in their world and in their context.
We're an integrated team
We pair research and UX design with engineering and technical prowess. This combination helps ensure we can deliver the outcomes you're looking for in a realistic timeframe and budget.
Our teams are lean and nimble
TXI strikes the right balance of agility and scale to deliver results without blowing your budget. Our teams flex up and down as the work demands, bringing in the right experts at the right time.
Our products are accessible
We prioritize inclusion in all that we design and build. At TXI, equal access to information and experience isn't just a best practice, it's how we do business.
Approach
Engage with experts
Engage with experts and evaluate the potential impact of your idea by peering through these four lenses.
Desirability
What are your users' needs, goals and motivations? Who will be impacted by this idea and by how much? Why might they care? How much will they have to change their current behavior to adopt your product or service? What are their existing alternatives?
Opportunity
What does success look like for this idea? How does it contribute to your overall organizational vision and strategy? How important is it to your future viability and how quickly do you need to get there? Do you already have customers and users at the ready?
Feasibility
Can your solution be built and for how much? What assets are already in place to use as a foundation? What can we use to start small and validate the need and riskiest assumptions? Where can we buy versus build to jumpstart the solution?
Reality
What is the magnitude of change your organization is ready to commit to? What's currently getting in the way? Is your culture and organizational model able to adjust to support innovation? Are people excited or apprehensive?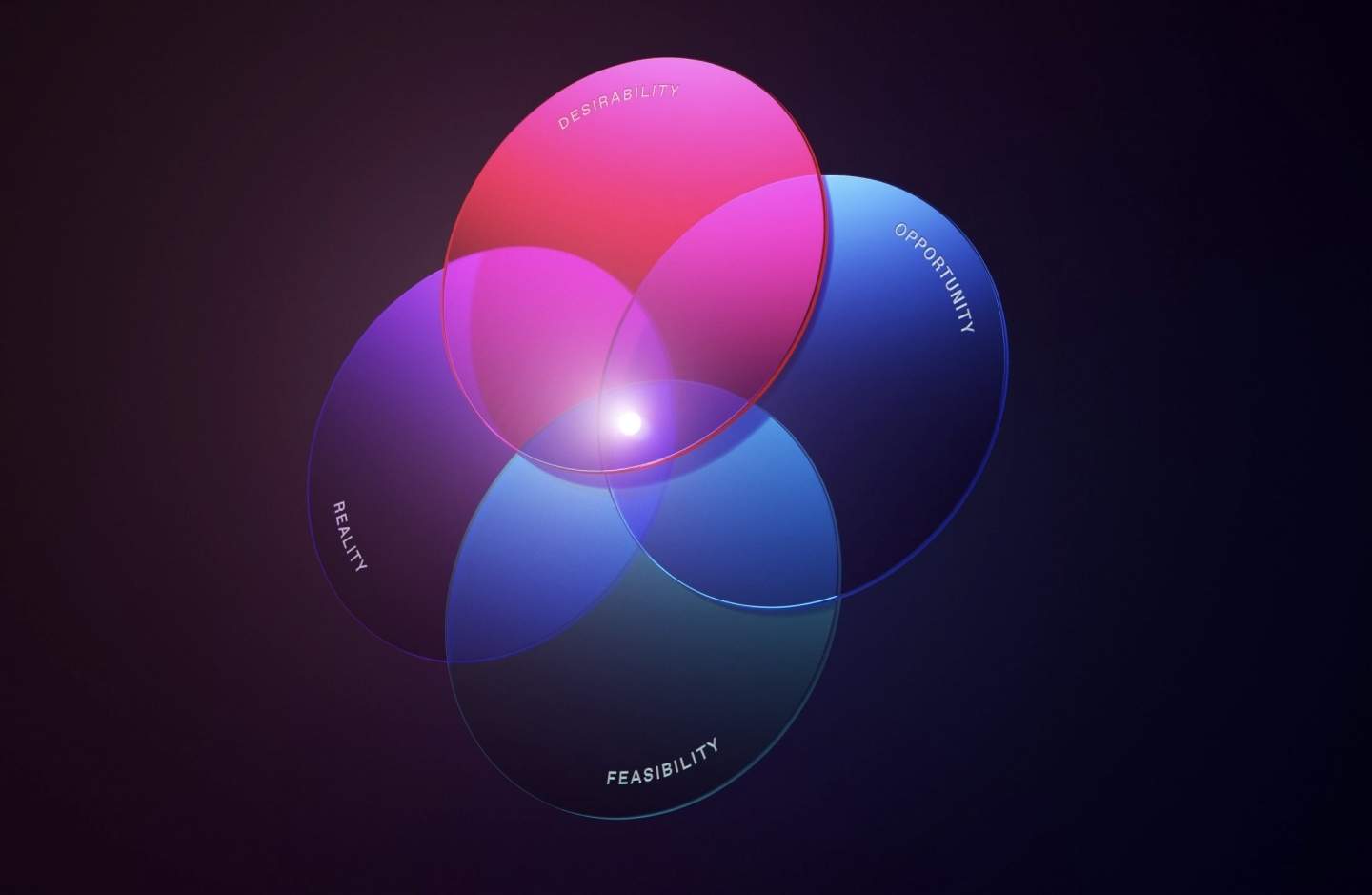 Approach
Work differently
As a business leader, you have big goals and limited resources to achieve them. Product innovation requires a fundamental shift in how your organization generates, validates, and iterates on ideas. To help you get there, we follow six principles to work differently.
See and Experience
We interact with the world beyond our desks, starting with end users. Getting as close to their experiences and perspectives as possible—combating bias with empathy—to ensure we accurately identify and document their needs
Dimension and Diagram
We break down our observations and restructure our findings to better understand the problem space. We visualize our shared understanding using maps and frameworks to align on insights and mental models.
Question and Reframe
We interrogate our clients' (and our own) beliefs and orthodoxies. We reframe problems and opportunities to challenge those assumptions.
Imagine and Model
We make our ideas tangible and shareable—concepting, sketching and wireframing what's plausible, probable and possible.
Test and Shape
We study actual users engaging with what we've sketched, prototyped or built. We ask for their feedback with every interaction and use that input and our observations to improve what we're building.
Pitch and Commit
Throughout the process, we pitch concepts and ideas, collect feedback, and align on preferred paths forward. We make sure everyone is on the same page throughout the whole engagement, building conviction for what to do next.
Approach
Widen your aperture
To design products that your users want to use, you need to understand their unique needs and perspectives. At TXI, we give ourselves permission and space to generate a high number of ideas. We don't get attached to the first approach and we seek out evidence to support our recommendations. By quickly generating and testing ideas with your users, we get answers early.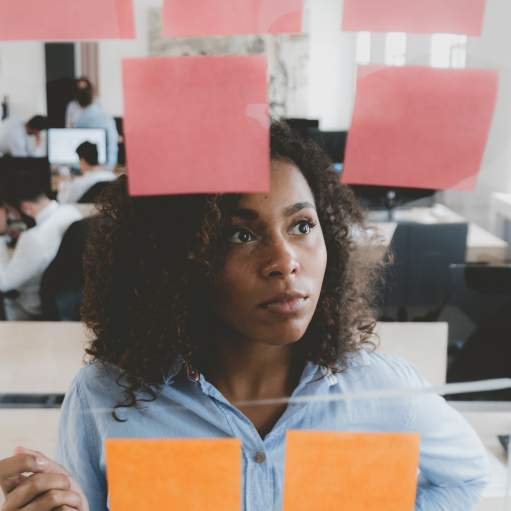 Approach
Remain accountable
Every step you take toward launching a new product should create value and move you toward the outcomes you need. To this end, we opt for small, fast releases, and don't waste time building solutions to problems that have already been solved. We front-load the queue with our riskiest assumptions and validate only the things that will differentiate you.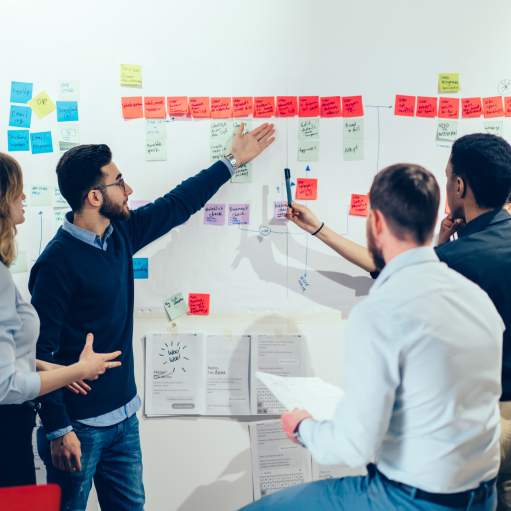 Approach
Learn to innovate
Anyone can become a successful innovator by adopting a disciplined approach to cultivating the right mindsets and behaviors. We know from experience that to build the most impactful products, you have to build impactful teams. We'll demonstrate the process for your organization, help you practice it, and then take a back seat when your team is ready to operate on its own.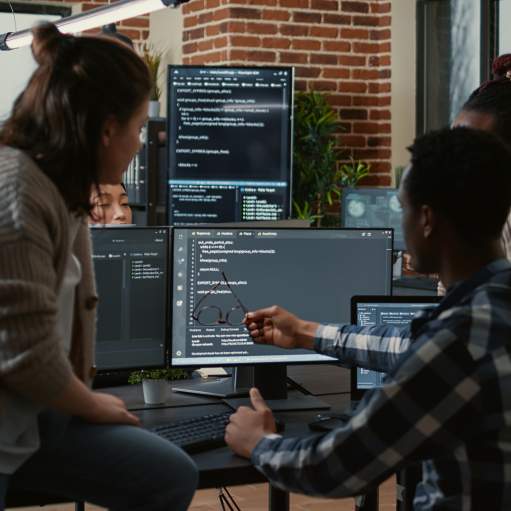 Case Study
Creating safety with a chatbot to drive better outcomes in pelvic health