The importance & promise of the fourth industrial revolution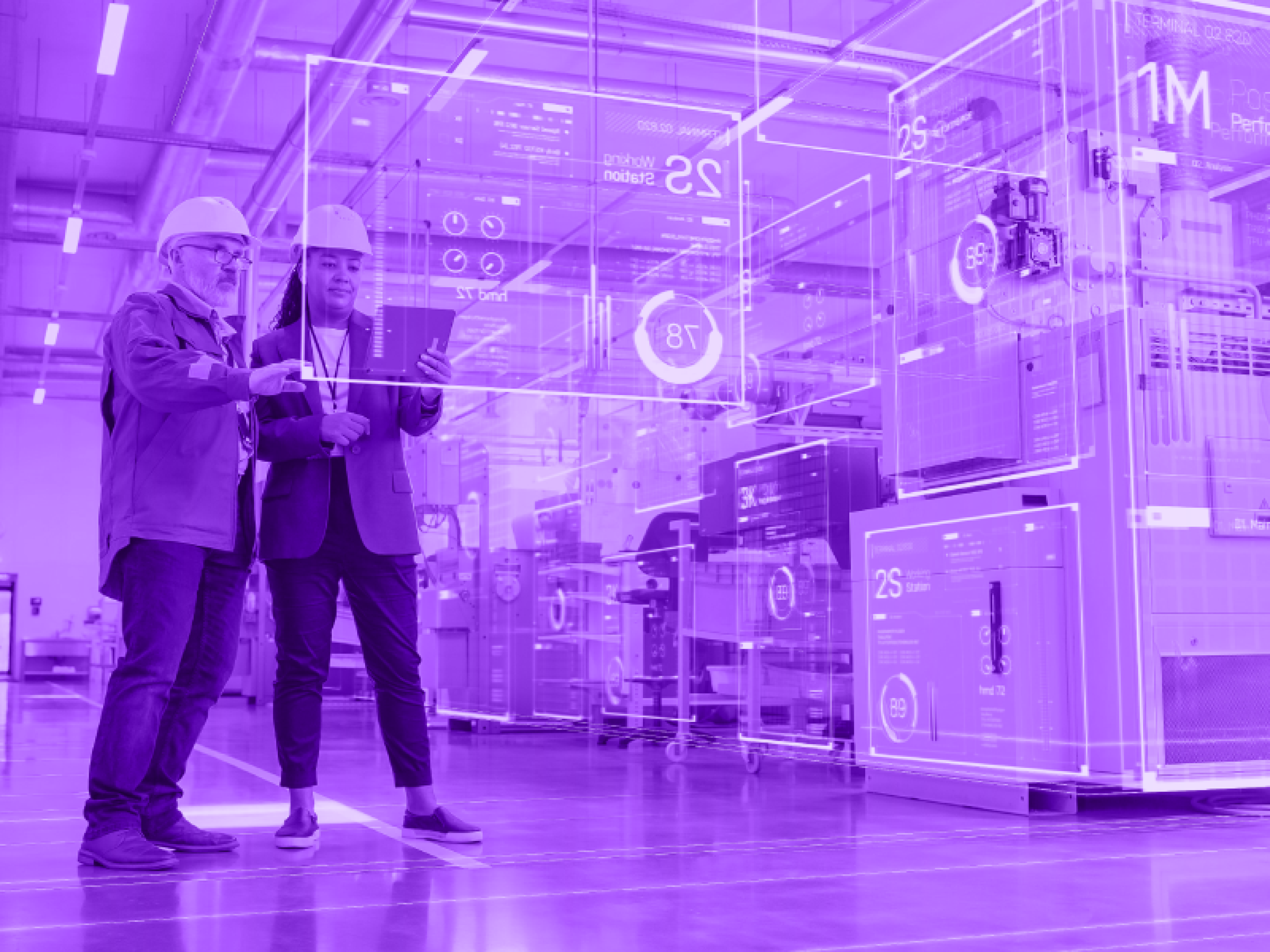 The webinar:

In this exclusive webinar, Jason Hehman and Andrew Horner, TXI client advocates and Industry 4.0 experts, will guide you to chart a course toward a successful IIoT future.
The Industrial Internet of Things (IIoT) promises a new wave of innovation for industrial and manufacturing companies to lower cost, improve efficiency, transform products, and satisfy customers. The game has changed completely with unprecedented opportunities to gather, synthesize, and act on data today.
If you're looking to stay ahead of the competition in the industrial sector and adapt to any changing market, TXI can help unlock your company's true innovation potential. We're helping organizations stay at the leading edge of this revolution with future-ready tech like cloud computing and analytics, machine learning, AI, sensors, robotics, and more.
Watch this webinar to learn:
What is the Industrial Internet of Things (IIoT) and Industry 4.0?

How does future-ready technology transform customers, company culture, and communities?

How is Disney creating magical experiences for guests?

What work has TXI performed in the space?
Panelists:
Jason Hehman, IIoT Vertical Lead and Client Partner at TXI
Andrew Horner, Principal Engineer at TXI

The expert:
Jason is the Vertical Lead for Industrial IoT and a Client Partner at TXI. With over 20 years of experience in the industry, he has certified brand strategist credentials and a proven track record of helping clients solve complex business problems through technology.
In Jason's current role, he works closely with clients in the industrial sector to help them leverage IoT to achieve growth and unlock new value. He applies expertise in product innovation, digital transformation, and smart manufacturing to guide them through every step of the process, from ideation to execution. He is passionate about understanding consumer behavior and using that insight to impact business strategy, as well as creating products that enhance user experience and satisfaction.

Summary and themes explored in this webinar:
Introduction:
Jason Hehman and Andrew Horner introduce themselves and their roles at TXI.

TXI helps companies bridge the gap between ambitions and reality through innovation and various disciplines, including design, strategy, and custom software.

The webinar agenda covers Industry 4.0, IoT, its real-world applications, and its benefits in industrial settings.
What is IoT?
IoT stands for the Internet of Things, which involves interconnected physical objects or things embedded with sensors and software for data collection and exchange.

Examples of IoT devices include smart home devices that can be controlled via mobile apps.
IoT at Scale:
Disney's Magic Band was presented as an example of IoT at scale, enabling personalized experiences for theme park guests.

The Magic Band collects data through sensors and devices throughout the park, enhancing guest experiences and improving park operations.
Industrial Internet of Things (IIoT):
IIoT is the application of IoT to the industrial sector, helping manufacturers improve productivity and efficiency by collecting and analyzing real-time sensory data.

Benefits of IIoT include tracking inventory, monitoring conditions, visualizing service coverage, and enabling quick responses to changes in demand.
Digital Transformation and IIoT:
Digital transformation is not just about technology but also involves a fundamental shift in how businesses think about their operations.

IIoT forms the practical foundation for this transformation by providing high-quality data, enabling informed decision-making, and measuring results.
Benefits of IIoT in Industrial Spaces:
IoT automation in industrial settings improves data accuracy and scalability.

It allows for remote monitoring of environmental conditions and equipment, enhancing efficiency.

Predictive functions enable efficient equipment maintenance, reducing costs and improving production processes.

Smart factories collect data from various sensors, enabling real-time analysis and decision-making.

Data is transmitted to the cloud, making it accessible to different tools and individuals.

Web and mobile-based data access, along with push notifications, facilitate quick decision-making and action.

Connectivity options like Wi-Fi and cellular expand monitoring capabilities.
Significant Figures:
Maintenance and equipment costs constitute 70% of overall production costs, emphasizing the potential cost-saving impact of IIoT.

Predictive maintenance can increase equipment uptime by up to 20% and save at least 10% on annual machine maintenance costs.

Predictive maintenance reduces planning time and minimizes organizational efforts and risks.
The Wider Impact of IoT:
IoT's efficiency and business impact extend beyond the industrial sector to society at large.

Environmental monitoring in IoT ensures the safe handling and preservation of raw materials, which is critical for industries such as aerospace and energy.

IoT advancements also play a vital role in maintaining the safety of perishable goods like food, beverages, vaccines, and medications during transportation and storage.
Case Study - Dickson:
Dickson, a client of TXI, transitioned from a traditional manufacturing company to an industry leader in environmental monitor technology.

TXI helped Dixon improve its sales channels and use cloud technology to provide customers with faster access to data.

Dickson now serves various industries, including aerospace, energy, food safety, and healthcare.
IoT in Logistics:
IoT combined with cellular technology addresses complex logistics and supply chain challenges.

Motor City Systems, a logistics startup, uses IoT to help small to medium-sized fleets improve driver management, safety, and efficiency.
Barriers to Innovation in Industry 4.0:
Common barriers to innovation in traditional industrial companies include:

Isolated experience with innovation cycles due to lengthy timelines.

Limited access to data, often restricted to line-of-sight.

Resistance to change and reluctance to abandon established toolsets.
Overcoming Industry 4.0 Barriers:
Overcoming barriers requires building a culture of innovation, embracing change, and experimenting.

Organizations should stay attuned to new technologies that address data and analytics challenges.

Encouraging employees to share ideas and listen to new ideas helps drive innovation.

Collaboration with innovation partners can accelerate growth and bring fresh perspectives to the business.
Final Thoughts on Partnerships:
Effective partnerships require clear expectations and roles, including project management, strategy, innovation championing, and mentoring.

Partners should help navigate security concerns and address technology implementation challenges at different stages of the project.

Aligning the organization around the value of innovation and involving stakeholders from various disciplines is essential for success.
Building Trust and Intimacy:
Establishing trust between your product team and partners is crucial.

Trust enables open and honest conversations, identifying opportunities, and addressing challenges effectively.

Developing collaboration norms fosters shared enthusiasm for new ideas from various sources, including stakeholders and customers.
Creating a Clear Strategic Perspective with Industry 4.0:
Define a clear strategic perspective on how IoT and innovation will deliver value to your organization.

Determine whether the focus is on growth, efficiency, or customer loyalty.

Clarity in strategy aligns efforts and ensures a path to desired outcomes.
Continuous Process, Not a Destination:
Recognize that IoT and Industry 4.0 are ongoing processes, not one-time achievements.

Emphasize long-term investment and evolution to adapt to changing needs and technologies.
Edge Computing:
Consider how close to the edge of an IoT system automated decision-making can be pushed.

Edge computing reduces latency, making real-time decisions possible, especially in critical processes.

The choice of edge computing depends on the nature of the process and the connectivity solution.
Coaching and Guidance:
Organizations can seek guidance and coaching from experts like TXI to determine when and where to use automation and how to make informed decisions.

TXI helps clients think through their business challenges and leverage IoT and technology thoughtfully.
Published by Jason Hehman , Patrick Turley in Workshop