A decade of thoughtful growth and awkward photos at TXI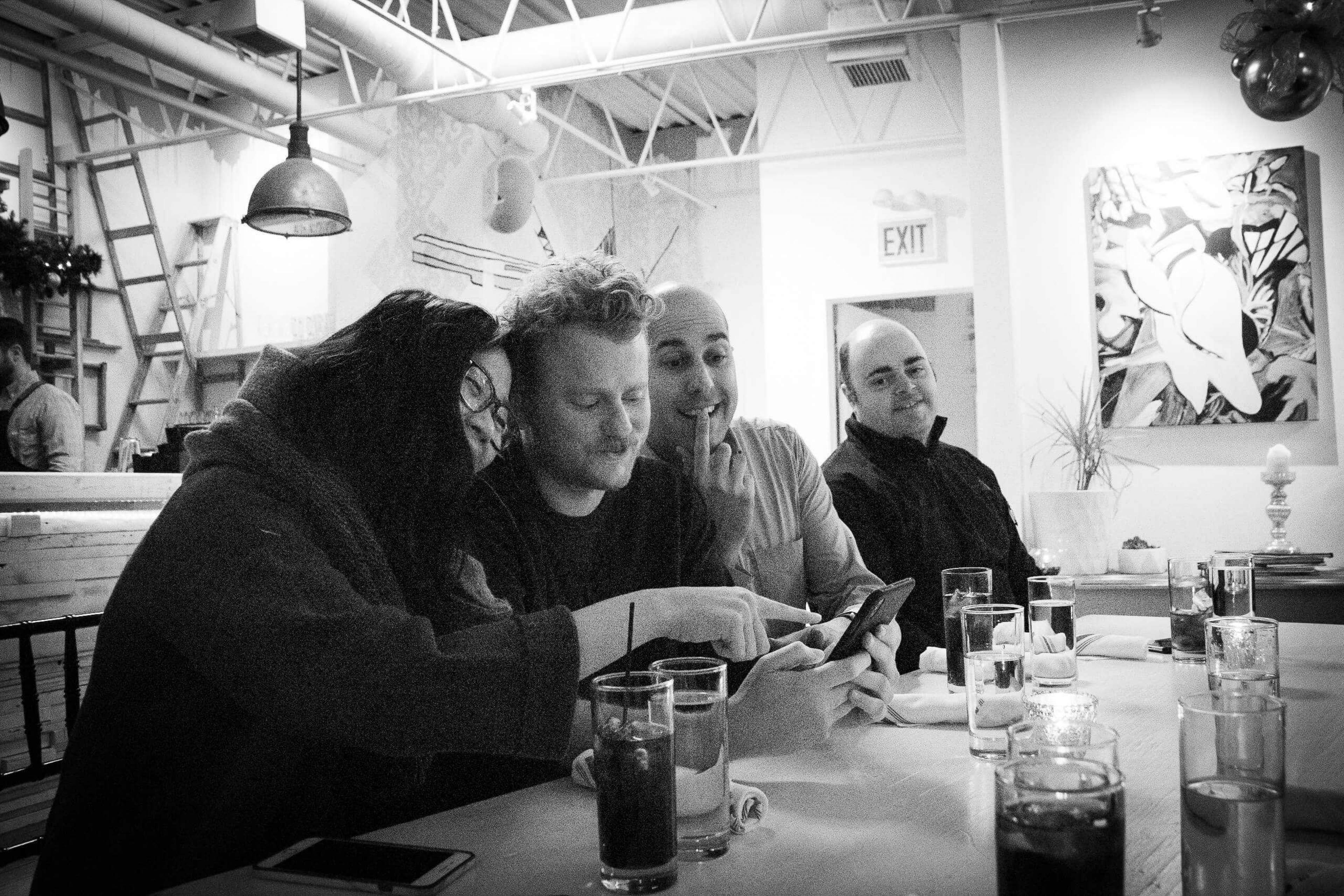 The upside about being an early blogging adopter is that we have a thorough record of the last 10 years at Table XI. The downside is that we have a thorough record of all of our opinions from the last 10 years. But for every baby-faced photo and review of a long-dead app, we also have a record of why we've grown the way we have over the past decade.

As different as we may have looked 10 years ago, we still try to act pretty much the same — with compassion and curiosity and a constant desire to learn new things and get better.
2010: Getting away to get closer
If you want a literal picture of how much technology has changed in the past decade, please look no further than the above photo, one of the only surviving images of our Costa Rica retreat. Instagram wouldn't launch until October of 2010, so unless you were willing to set up a Facebook photo album, it was pretty much a dusty corner of your hard drive or Flickr for image storage.
Despite the lo-fidelity, the two Costa Rica retreats are still crystal clear in the memories of anyone who went on them — so much so that we made them an annual tradition. No, we don't always go to Costa Rica now, and we don't all go at once, but the idea of getting the team together and getting us out of our normal environment to talk about the big picture is as important 10 years later as it was then.
2011: Table XI takes a recognizable shape

In a lot of ways, the Table XI you know and love today came together in 2011. We moved into our current office — building out a commercial-grade kitchen where home-cooked meals and chance encounters could happen. And we brought on two team members who are still with us today. Mark Rickmeier joined as COO and Alicia Drucker joined to bring Agile concepts to the company. Together, they built out our project management practice, turning Table XI into a strategy partner that starts every engagement with research.
2012: Turning 10 and turning up the volume
In 2012, we turned 10 and celebrated with a "new" website. The general idea was the same — we solve problems with tech — but the design was decidedly retro. Catch a few glimpses in this (also retro) video:
Despite the very 2012 aesthetics, 2012 was also the year we started to get loud. We sponsored a conference, started a mentorship program and got involved with events like Pechakucha and Chicago Ideas that we're still proud to be a part of today.
2013: Speaking out
We kept using that voice in 2013, speaking at and sponsoring conferences and volunteering across the city. We also started to speak publicly about mental health in the tech community. We started devpressed.com and Greg Bauges began speaking on devs and depression in honor of our colleague Caleb Cornman.
Today, thankfully, there are more mental health resources for people in technology and the world at large. But we're still investing heavily in mental health for everyone on our team — including subsidizing therapy and actively working against burnout.
2014: Celebrating Roger Ebert's life and Chicago Ideas' future
We began working with Roger Ebert in the last few years of his life, building out the website that would ultimately serve as his legacy. If you read his movie reviews, we can tell you that he was was exactly as thoughtful, kind and intelligent as his writing made it seem. It was a gift to work with him, and we all celebrated when Magnolia Pictures picked up Life Itself, the documentary on his life that would cement his place in film history.
In the same year, we doubled down on a partnership that continues to this day. We had participated in Chicago Ideas Week, speaking and attending the festival of thinkers, and in 2014 we signed on as their official technology partner. Since then, we've built out the technology to allow the event to grow, and the overall Chicago Ideas brand to become a year-round destination for top minds.
2015: Coopertition: Working with our competition
In 2015 we focused on building up our own skills. We launched the DevOps practice, introduced new project management software, worked on our first IoT app and created an internal sponsorship program to support individual growth at Table XI.
We also started working with our competition. Ops-Conf brought together 15 different technology companies from four different countries to share ideas about how to run a better consulting company. It came out of our own needs — we wanted a place to talk through all the operational decisions that go into running a good project-based company. Since then, however, it's developed into a robust annual conference that shows the value in coopertition. We've referred business, teamed up on projects or generally learned every company that's been a part of Ops-Conf over the years.
2016: Learning new techniques
Curious is one of the first words we reach for when we describe the people on our team, so we've always been interested in testing new technologies, taking them apart and seeing how they might work for our clients. Our IoT practice, for example, was born pretty much entirely from Ed LaFoy's love of tiny, helpful robots.
After a good bit of researching and tinkering and waiting, we introduced two new practices to Table XI that we still use today. The mobile team used React Native, a cross-platform mobile framework, on client projects for the first time. They found it fairly remarkable, robust and easy to learn with a surprisingly solid ability to create Android and iOS apps from the same codebase. Today, most of our mobile projects start with our React Native stack.
Our design team also started playing with a new framework to help clients make decisions and test ideas quickly. The Google Design Sprint process promised to build and test a prototype in one week. Once the team was convinced it actually could do that and yield valid results, they started bringing it to clients. It's since helped us test hypothesis for everything from snack foods to weather apps.
We had the good luck to talk about the Design Sprint process with Google's Kai Haley on our podcast, which we started taping at the end of 2016. The Tech Done Right podcast was our attempt to invite people into deeper conversation about the technology we build and its impact on the economy, our communities and ourselves.
2017: A future so bright …
2017 turned out to be kind of a big year for the company. But the biggest news no doubt was Mark Rickmeier taking over the CEO role, while founder and CEO Josh Golden took a step back to work more closely with startups.
In an effort to get his CEO-legs, Mark — who had launched Ops-Conf two years before to share operational experiences — launched Walkshop to share executive experiences. The new conference brought together leaders from all kinds of companies and gave them a space to share goals and insecurities and tactics while clearing their heads on incredible hikes in scenic locations.
2018: Designing a company for inclusivity
Under Mark's leadership — and with the help of a lot of team members new and old — we spent 2018 making Table XI a more inclusive company. Our first step was rethinking benefits, especially parental leave. The big change, though, was in the way we communicate. We created a new onboarding program to introduce people to all the Table XI in-jokes and history notes that have built up over the years. We launched Meetings Done Right, creating a deck of inclusion cards to facilitate more equitable meetings. And we launched an apprenticeship program to bring in and train up new talent.
All of that gave us a structure to grow right in 2019.
2019: Growth done right
We had a chance to close the decade out in a big way in 2019. Over the past decade, we've gone from a team of 18 to a team of 50. It's been incredibly satisfying, but it hasn't always been easy, especially when it comes to staying true to the culture we started out with.
We've done a lot of work to make sure that what was right about the company in 2010 is still true today. We've also done a lot of work to make it a more welcoming and supportive company that it ever has been.
At our current size, and with our current client demands, we can't exactly all jet out for a week in Costa Rica like we could back in 2010. That doesn't mean we've given up on retreats though. In 2019 we started sending everyone in the company on nimble retreats. These smaller groups travel together for intense experiences, creating the same bonds and opportunities for big thinking without taking the company offline. As you can see from the video below, it's working. In fact, it's working so well that in 2019 both Inc. and Built In Chicago named us a best place to work.