How to design healthcare products for maximum patient value and scalability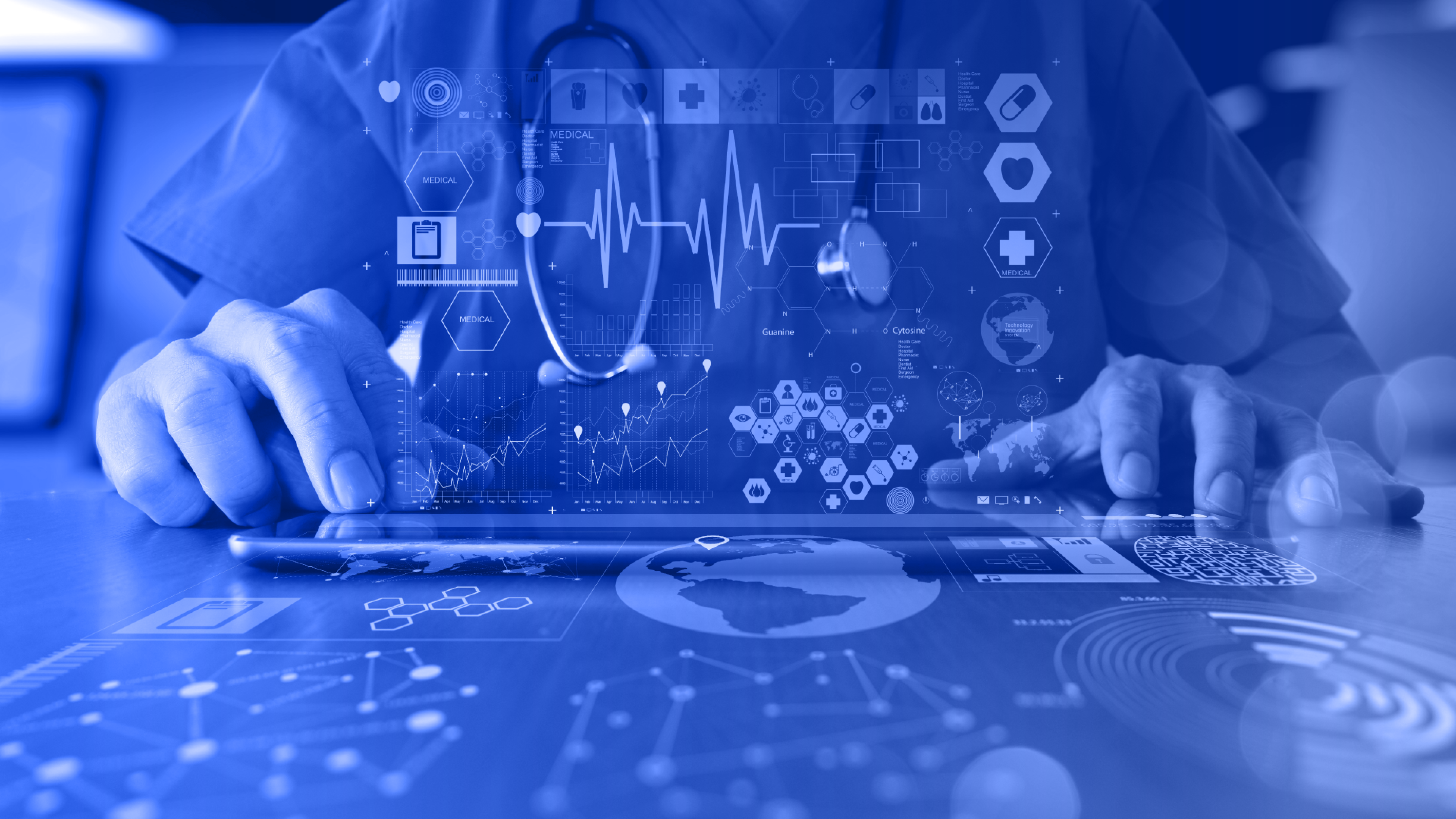 Healthcare product data integration begins with thoughtful and empathetic design
A product seamlessly integrating with your customer's systems and workflows is critical to delivering value.

Watch this webinar to learn:
How to avoid common pitfalls in designing scalable healthcare products

How to realize the value and importance of thinking about integration and scaling needs during the product development phase

How to accelerate user adoption
Panelists:
Dael Stewart, Lead Product Strategist and Digital Health Vertical Lead at TXI
Sarah Bottjen, Director of Professional Services at Redox


About the Digital Health expert Dael Stewart
Dael is a Lead Product Strategist for the Digital Health vertical at TXI. With a human-centric approach, he is focused on delivering digital products and services supporting the needs of patients, users, and provider-companies to build more accessible, equitable, and innovative solutions across the digital health landscape. With over 20 years of experience, Dael acts as a trusted advisor to healthcare leaders across the digital health landscape; helping them understand that focusing on the patient and creating 'sticky' experiences drives improved outcomes for patients and systems alike. Dael's curiosity and deep expertise allows him to both challenge and collaborate with clients, colleagues, patient advocacy groups, and healthcare systems—driving innovative end results that improve individual and collective wellbeing.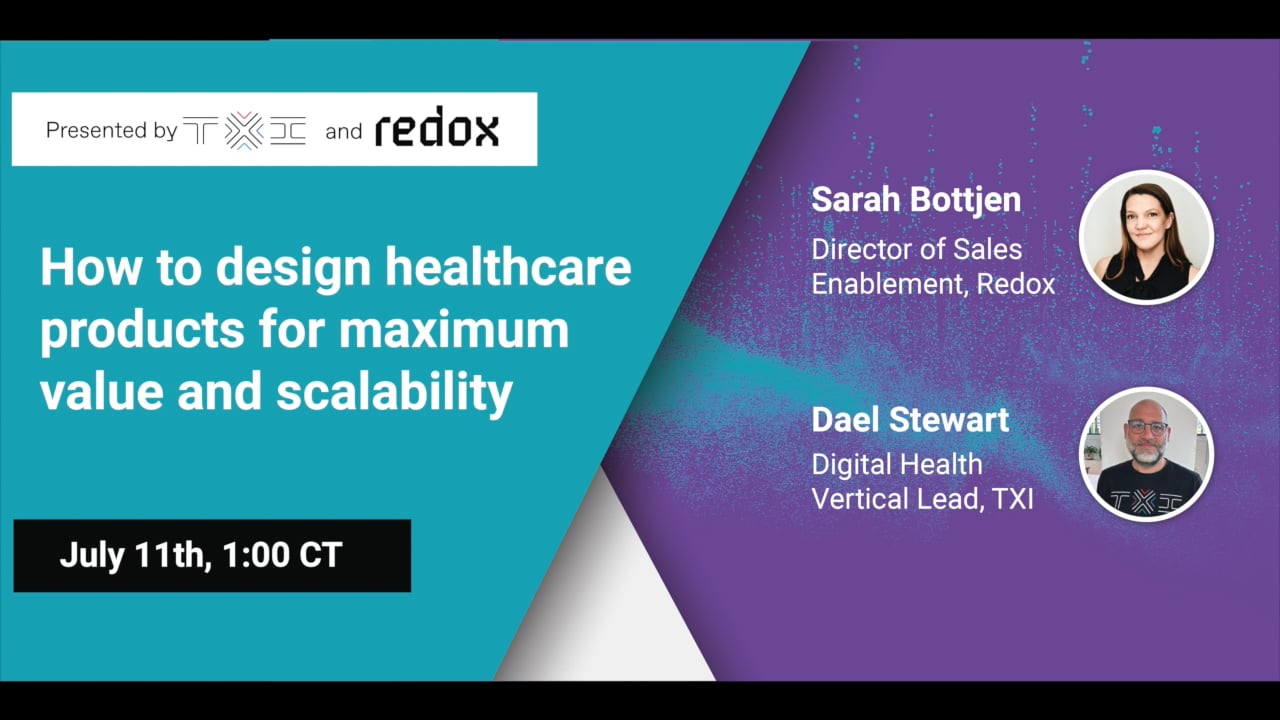 Summary and Themes Explored in This Webinar
Introduction
Dael Stewart's 20 years of experience in software development, with a focus on digital health for the last 10 years.

Building digital health practice at TXI and partnership with Redox.

Overview of webinar topics.
Reframing the Approach to Work
Importance of client, problem, and product at the center of consideration.

Collaborative approach to problem-solving with integrated strengths.
Integrated Product Development
Phases in typical product development approach.

Accelerating clients' progress through user needs validation and technical feasibility.

Adapting and providing relevance as the product grows.
Understanding Integration Considerations
Four key considerations: buyer profile, business model, key users, and EHR systems.

The significance of seamless product integration with customer systems.
Remote Patient Monitoring (RPM) Example
RPM device as a central example for product development and go-to-market aspects.

Focusing on user needs and leveraging Redox's understanding of clinical system workflows.
Defining Success and Business Model
Understanding the definition of success and complexity in healthcare product development.

Aligning product expression with market needs and user value.
Integration Workflow Components
Enrolling patients, supplementation with data, and right back to EHR.

Flexibility to choose components based on user needs.
Integration Options
Patient Query

Allows patients to query their data through an application.

Pros: Easy implementation, read-only, and global availability.

Cons: Dependent on patient usage, patients own data querying.

Media Push or Direct Messaging

Sending PDFs to providers through a network connection.

Pros: Lightweight, budget-friendly, one connection for global reach.

Cons: Limited functionality, no right-back, provider-dependent usage.

Medical Record Query (Care Quality)

Facilitates medical record exchange for treatment purposes.

Pros: Nationwide coverage, powerful data access.

Cons: Limited to treatment use cases, read-only, dependency on data access.

Structured Exchange with EHRs

Automation of enrollment, data exchange, and right back using standardized methods.

Pros: Extensive data access, integration with provider workflows.

Cons: Complexity, collaboration with IT teams, longer implementation.
Selecting Integration Options
Consideration of needs, market, and workflows when choosing integration options.

Structured exchange suitable for automated enrollment, complex data needs, and provider-patient treatment relationships.
Real-World Scenario: Virtual Care
Structured exchange in a virtual care scenario for efficient patient data access and better care.
Conclusion
Flexibility in combining integration options.

Goal: Enhance value for providers and patients through tailored integration strategies.