Creating safety with a chatbot to drive better outcomes in pelvic health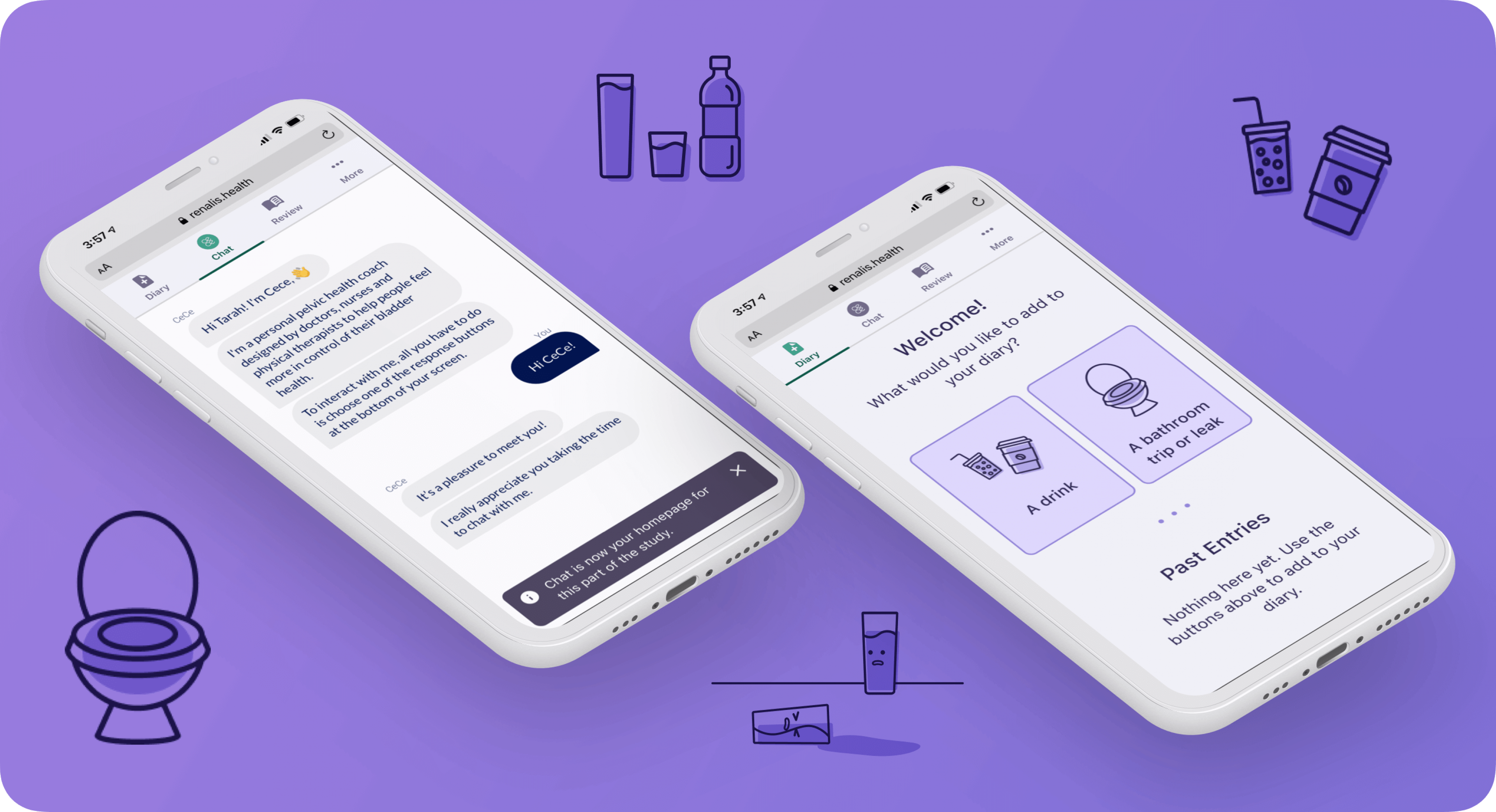 The brief
"The integrated team at TXI uncovered valuable insights and delivered an extraordinary product that was innovative, user-centric and secure."
Missy Lavender, Founder and CEO, Renalis
According to Renalis Health, "Pelvic health disorders are insidious and expensive, affecting one in three people in the U.S. with costs exceeding $100 billion per year."
These disorders are often emotionally fraught and complex. They are a progressive problem to solve for patients and equally challenging to treat for healthcare providers. Often, pelvic health patients must follow a comprehensive plan to manage their symptoms and improve their overall state of being, but many are unable to succeed.
Knowing how difficult this can be for patients and providers, Renalis wanted to build a tool that focuses and supports the patient on this journey.
To date, they've had success with a conversational agent (sometimes referred to as a chatbot), CeCe Lite, which provided people with a five-day experience of interaction and education.
When they came to us, the next step for Renalis was to do a proof of concept study for a full-digital therapeutics for Overactive Bladder and submit those results to the FDA. In this study, participants will fill out validated surveys through the CeCe conversational agent, as well as keep a bladder diary (tracking fluids in and fluids out) for three days.
Renalis sought help from TXI in two ways: to develop, in the short term, what was needed to facilitate the FDA study and, more broadly, to understand what the opportunities are to better serve this population beyond the immediate constraints of the study.
The challenge
Understanding patient needs through research and discovery
For people experiencing pelvic health disorders, the symptoms can be intensely embarrassing, and many are reluctant to identify and investigate their issues.
The opportunity to capture adequate patient data and inform better avenues of treatment and education will come from an upcoming proof-of-concept study Renalis' research partner, University Hospitals will lead.
The study will require participants to keep a bladder diary (tracking fluids in and fluids out) for three days. At the end of those three days, participants receive ongoing virtual behavioral therapy consisting of education and exercises to practice. There are two subsequent diaries at the four-week mark and eight-week mark, to show patients how and where they have improved over the course of the study.
Keep communication open and engaging. How can we utilize a conversational agent to educate and engage with users in expert dialogue?

Embrace the topic and empower users. Pelvic health is a complicated topic for many people, how might we address the emotional stress surrounding these symptoms while encouraging compliance?

Is the phone the answer? Requirement number one is to create a digital product to help make it as easy as possible for someone to keep a bladder diary.

Create a tool, not work. How can a tool give users more control over their bodies and lifestyles?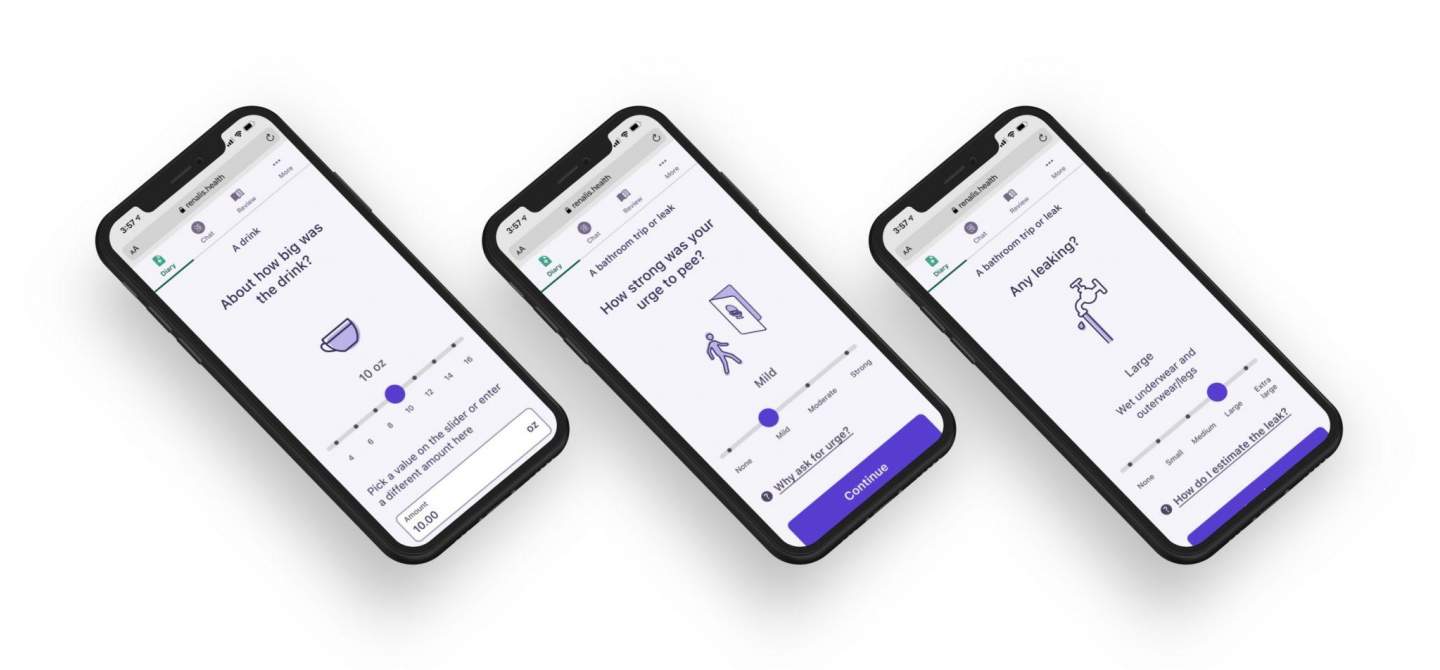 The solution
A client and TXI team collaborative workshop to drive creative and innovative solutions from multiple perspectives
Create interactive prototypes for concept testing and validation with target users to better understand interface direction and build empathy for users
Synthesize testing and user interviews to find common themes and key insights to drive a product roadmap
Technical discovery to better understand HIPAA constraints, optimal technology for conversation agents and how to unify that agent with a diary-driven experience.
The outcome
Inclusive design that leverages empathy and data
Through our research and discovery process, we determined that an app that focuses on engaging patients in a trustworthy and flexible format would lead to stronger adherence to a voiding diary. That outcome, while meeting user needs, would also support Renalis' business needs in validating their product in their first official study.